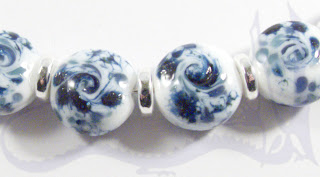 Crikey, it's been a year since I wrote anything. Didn't that fly!
What has happened in the last 12 months?
Becky has set up her own social media/event management company (clever girl) and Geran is in his second year at Derby. I completed and passed my diploma, for all the good that did, but it's done and dusted.
Beadwise I did a class with Paati Walton at Flame Off, and a couple with Di East. I learnt something at each one, just need the time to practice.
The fairs have been a mixed bag with Lincoln practically clearing us of stock whilst in Harrogate we couldn't give it away. Ah well, hopefully 2013 will be more consistent.