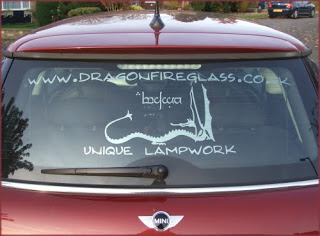 Back to work (school) today after a week of half term.
I did enjoy myself at Harrogate Bead Fair at the beginning of the week. I had the other Fyrebirds, Shirley & Trudi for company, and saw some friends to catch up with (Martin, Teresa & Jo) plus had a successful time too. Couldn't be better!
The end of the week saw me visiting my parents and sisters as well as getting the coolest sign ever put on the back window of my Little Dragon Mini. Now everyone will know who I am – better make sure I drive well!